Kimberly Bradley
Birgit Jürgenssen's "Stoffarbeiten". GALERIE HUBERT WINTER, Vienna
I thought it might be my imagination, but it seemed that every winter I happened to be in Vienna, Galerie Hubert Winter—a mod two-level space directly behind the MuseumsQuartier—was showing another exhibition by the late Austrian artist Birgit Jürgenssen, who was born in 1949. The name was the same, yet the work often varied dramatically from one show to the next. Last year, I stopped by to find out more. Yes, Jürgenssen has generally been featured in Winter's first show annually since 2008, with each exhibition revealing one work series from the artist's prolific output, produced (often simultaneously) throughout a career that ran from the early 1970s until her premature death at age 53 in 2003.
By now, the January slot is predictable, but it has been refreshing, sometimes astonishing, to observe Jürgenssen's many approaches to her artistic practice (I often wonder, too, whether the artist herself would have approved of or objected to how these approaches are presented). A true multimedia artist well ahead of her time, Jürgenssen made drawings, cyanotypes, figurative and experimental photographs, text works, Polaroids, sculpture, abstract films projected onto her body, photorealism, and performance. What connects the work is a sense of womanness—beginning with the artist's very literal feminist critiques in the 1970s and 1980s; and later, her explorations of femininity as sensuality, vulnerability, strength, even divinity. She did a series of "Hausfrau" (z401)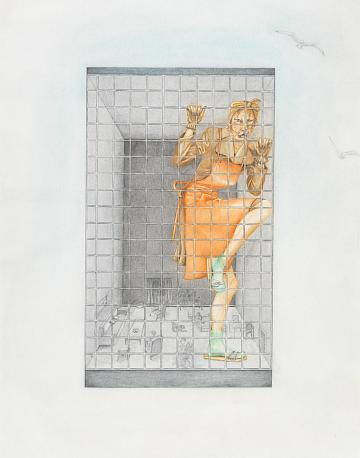 drawings in the early 1970s, and one of her most famous photographic self-portraits has Jürgenssen dressed in an old-fashioned apron and pressing her face and hands on a pane of glass inscribed with "Ich möchte hier raus" [I would like to get out of here]  (ph17)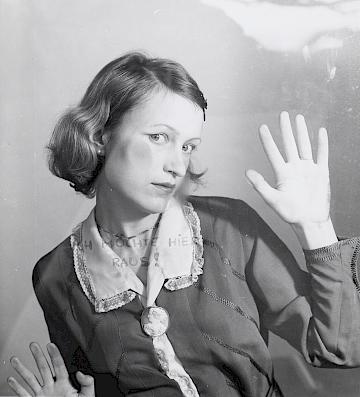 (1976). mehr
On view at Winter's current show, "Stoffarbeiten" [Cloth Works], are around twenty works from the late 1980s and early 1990s in which the artist covers photographs with fabric. Jürgenssen uses this "female" medium not as a material in itself but more as an interface or screen—in all the works, the photographs or cyanotypes are wrapped tightly in transparent gauze, voile, and netting, nearly invisibly veiling (yet dramatically altering) the quality of the images arranged mostly into polyptichs with as many as fifteen elements. Many pictures come from other parts of Jürgenssen's oeuvre; by reprinting (or even rephotographing) and rearranging them, she essentially samples herself, recasting narratives and presenting them under an inconspicuous veil.
The dreamy compositions illustrate the symbolic visual language that Jürgenssen had developed by the late 1980s. She works with elements (Water-Air-Fire  (ph876)
, 1988, a triptych of Jürgenssen's brilliant abstract cyanotypes, rephotographed, is particularly dramatic). Or vantage points—in Ohne Titel (Nonne)  (ph937)
  (1990), broad-angle mountain landscapes are set against extreme close-ups of water droplets and a pretty nun shushing someone with her finger to her lips (a good example of the artist's subtle humor). She delves not only into her personal history but also goes back in historical time, incorporating images of classical sculptures of Greek goddesses as well as Surrealist references. Selbstporträt mit Lampe  (ph716)
 (1979/1991), a vertical triptych in black and white, resounds with echoes of Man Ray. Here, between reverse images of a domed lampshade is a photograph of high-heel clad legs in a room, distorted as if in a fun-house mirror and reflected as nearly horizontal elements. In fact, Jürgenssen had studied the Surrealists, living in Paris for a period and even doing a series of fur works (not on view here) that directly reference those of Meret Oppenheim.
A contemporary of other Austrian feminist artists like Valie Export or Maria Lassnig, Jürgenssen was long underrated—perhaps because she failed to "brand" herself in one medium (like Lassnig's paintings) or by deliberately provocative public performances (by all reports, she was a much more reserved personality than Export). For the past several years Winter, who was also romantically linked to Jürgenssen before her death and now handles her estate, has been busy making sure that the artist is not only remembered but also discovered by a broader audience at a time in which her work can be better understood and contextualized. His efforts are paying off—solo exhibitions have recently been on view in Viennese institutions like Sammlung Verbund and Bank Austria Kunstforum, and  last year, Winter featured the artist in both the Feature section of Art Basel and at Frieze Masters.
"The multipart works are a puzzle on the sources for erotic manipulation and their relationship to self-confidence," Jürgenssen once said about her fabric-covered works. "A game of self and the other, the private and the public. It's also a confrontation of reality with another version of the same reality." "Stoffarbeiten" could also be seen as words arranged into poignant poems coming from the multiple threads of a life narrative—one that deserves to be read and its many realities explored.