Michael Phillipson
Birgit Jürgenssen - Nekyia, Nacht Seh Fahrt, Night See Crossing, John Hansard Gallery, Southampton, 1987
In: Artscribe International, January/February 1988.
This touring exhibition of Jürgenssen's recent work (curated by Julien Robson) shows the breadth of her interests and imagery, and her sensitivity to a wide range of materials. Combining painting, drawing, and photo-printing (on canvas) she moves through larger mixed media works on paper, triptychs, and a range of works on shirting, to smaller photo-canvas collaged diptychs. Across these works certain themes are insistent: night and woman's body frequently recur as reciprocal and intertwined metaphors.
Her evocations of night span the literality of grey-black grounds and shadowy forms to lighter spaces representing night as that region of sleepless reverie which perhaps partakes of, but is not yet, the dream. Jürgenssen represents this region as that space-time in which the woman's body, lost to itself during the day through culture's violent degradations (hinted at in two photo-canvas diptychs, Supermarket, 1987, and Trainingsraum, 1987), might possibly come into its own. This repressed body, which cannot see, know, represent, or become itself on its own terms, recognizes the night as its essential condition. The representation of night is thus the focus of Jürgenssen's practice, for it is only there that woman's body can begin to find itself outside the frames and categories of the day.
Her work seeks metaphors, then, which may bring the body to light (make it visible), but still only on night's terms, under cover of dark. This paradoxical project must preserve night's darkness, as Jürgenssen's essential space, while giving us enough 'natural' light to share this region, where the body of the day is scattered on behalf of its other. Thus, in her paintings/drawings/prints the body slides out of itself, expands, contracts, is cut up, disseminated, and re-combined - without the emergence of any new whole.
In her larger works the imagery is floated across and into grounds that refuse readings of a singular depth, their flatness (sometimes accentuated by lightly rubbed frottage's of wooden planks) is typically subverted by a multiplicity of flickering marks that imply an infinitely regressing space. Against these unstable grounds the predominantly linear imagery (bodies and their parts, vases-as-bodies) comes and goes. In some works, such as Going to bed Without Sleeping (z979)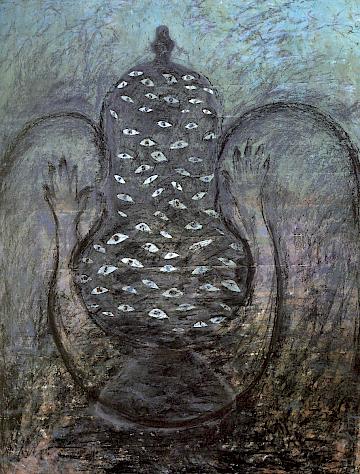 , 1986, the firmness of the drawing defines an apparently unequivocal but nameless form, the image coming to life in and as the tension between the combined elements. Identity (and especially sexual identity) is dissolved. Elsewhere (for example,Forbidden Morning(z1227)
, 1986,Time Smoking a Picture (z989)
, 1986) the suspended forms, through intersections, overlaps, dissolves and flowing ribbon lines, are left eternally open to recombination by the respondent. mehr
This refusal of recognizable identities is taken further in the Hermaphrodite (la19)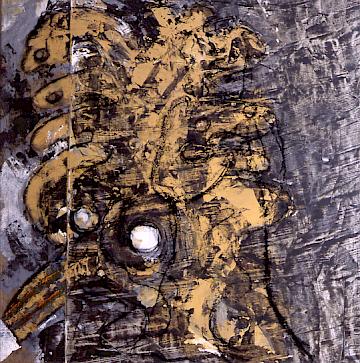 series of paintings (1987). In each a canvas strip with repetitive motifs (some explicitly phallic - a chain of sperms, a row of arrow quills) is collaged down the painting's left side, in the rectangle to the right organic forms float and are interwoven. Here it is no longer just woman that is being represented, even on her own terms, but the confusion of sexual identity. This series represents the in-between; it may perhaps, be Jürgenssen's metaphor for art's own body which, resisting reduction to a single entity, desires to remain irremediably immersed in the multiple.
Birgt Jürgenssen, Jeder Möchte String(ph896)
, 1987
Mixed media 30'' x 16''