Daniele Perra
Birgit Jürgenssen. Making Art Just For Herself.
in: Unflop Magazine, Spring/Summer 2014, Issue N°6, pp. 32 - 41.
Interview with Hubert Winter
Through photographs, drawings, performances, and sculptures, made in porcelain, wax, or bread, the Austrian artist Birgit Jürgessen has launched universal messages. She has turned the "female question" and self-portrait into her strong points, though not excluding pop works in bold psychedelic colors. Referring to her oeuvre, artist and current ZKM Director Peter Weibel remarked: "Birgit Jürgenssen is the missing link that is finally being discovered not only for Austrian feminism between Maria Lassnig and Valie Export, but also for the international women`s art movement from Francesca Woodman to Cindy Sherman. As a result of her Surrealist and Structuralist tradition within this spectrum, she occupies a universal position. In order to better understand her status: Birgit Jürgenssen represents a contemporary position in the line of Meret Oppenheim and Louise Bourgeois." Her surprising imagery, which harks back to surrealist visionariness, and her ground-breaking investigations were also finally acknowledged by MoMA, New York, and Centre Pompidou, Paris, which in 2013 acquired some of her works, exactly then years after her death. Underestimated by the art world throughout her life, Birgit Jürgenssen is today experiencing a well-deserved comeback. Thanks also to the passion of her long-time gallerist Hubert Winter: here he narrates anecdotes and recollections of an extraordinary figure who considered "self-irony" as a method of gaining distance – the distance, she once said, that helped her to see the things in the world more clearly. (ph1333)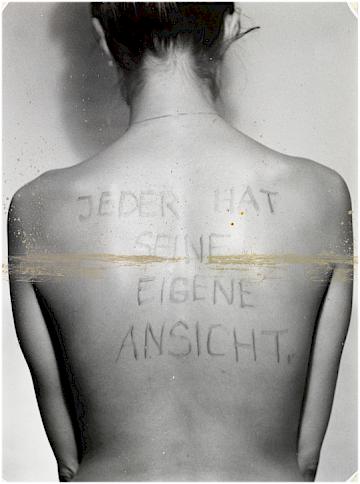 (ph1654)
  mehr
Daniele Perra: You`ve been working with artist Birgit Jürgenssen (1949-2003) since the early 1980s. Her first solo exhibition at your gallery in Vienna, titled 10 Tage 100 Fotos ("10 Days 100 Photographs"), was held in 1981. That installation project was remounted in London in 2013. What was originally on display at your space and how did the public react?
Hubert Winter: In the 1970s I had a little gallery space of just 35 sq m in the first district in Vienna on Seilergasse 19. Back then, exhibitions were short, due to the lack of interest of the Viennese audience. Besides, I also ran a small bookstore with selected literature and so I constantly had to make changes for the art exhibitions. Birgit Jürgenssen had the idea of making an extensive installation on the only big freestanding wall in the gallery, which consisted of 100 photographs that we showed for 10 days. That`s how the work got its title. We also made a little artist`s book with a special edition in 30 copies. The exhibition back then was hardly noticed or seen.
DP: When and how did you happen to meet her for the first time? Also, how was it working with her for over 30 years and now managing her Estate?
HW: Birgit Jürgenssen was a relatively well-known member of the Viennese Art Society. Every no and then she would buy books from me and that`s how we first met. It was exciting to know her stupendous ideas. Lots of her ideas, unfortunately, couldn`t be shown, although almost every year I held a solo exhibition or displayed some works of hers in group exhibitions. Birgit continuously and untiringly worked just for herself, which explains the huge number of works in the Estate. (ph1655)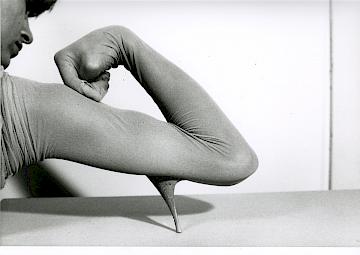 DP: It seems that she knew at a very early age she would become an artist. She was 8 years old when she began copying images by Pablo Picasso in a notebook. She went even further, combining the master`s name with her own BICASSO Jürgenssen. She was an assistant in the Master`s class of Austrian artist Maria Lassnig, who recently won the Golden Lion at the Venice Biennale. Then she moved to the class of Arnulf Rainer. Since 1997 she kept lecturing at the prestigious Academy of Fine Arts in Vienna, even though she attended the School of Applied Arts. Apart from her academic background, what influenced her life and work most?
HW: Birgit`s work was influenced most by her early trips to Paris and her early knowledge of French Surrealism. She used to read lots of Surrealist and philosophical literature, poems; she read books on Structuralism and had an extensive library with selected books in which she would read them over and over again and quote them. Her numerous workbooks and notebooks (about 60  are preserved) bear witness to how much she dealt with the intellectual movements of her time. Her constant trips to New York beginning in the early 1980s were important for her life and her work. There was a different wind blowing in the art scene. She loved New York, got to know some artists there, and even held an exhibition in 1984 at the Jacks Tilton Gallery. The fact that MoMA in New York now possesses 13 works of hers would have pleased her immensely. Two of the photographs were recently shown in the group exhibition XL: 19 New Acquisitions in Photography at MoMA. (ph1541)
DP: From your recollections, did her family support or contrast her choice of being a quite provocative, rule-breaking, and multifaceted pioneering artist?
HW: Her family was neither negatively against her artwork nor did they especially support her artistic inclinations.
DP: Did her private life in some way influence her practice?
HW: Her early marriage with an artist colleague surely led to great experimentation. In the 1970s Birgit Jürgenssen`s work definitely contained autobiographical references while her drawings and performative photographes reflect the whole situation of the status of women in art and in society in general.
DP: Her entire career has been characterized by intensively exploring any given theme with great passion, using a wide range of media, and most importantly experimenting all the time. She was an ingenious pioneer when it came to self- representation and investigating women`s roles, not only in the closed art field, but in society itself. Do you think she can be considered as a reference in Austria for the feminist emancipation movement?
HW: Birgit Jürgenssen always spoke with great respect of Valie Export, who back then was a key figure. But Birgit`s feminism was a bit different; it was more poetic, lyrical, ironic, and subtle. Her feministic practice and art were important for generations of female art students at the Viennese Art Academy. Nowadays, the understanding of her feministic way of expression has grown. (ph1618)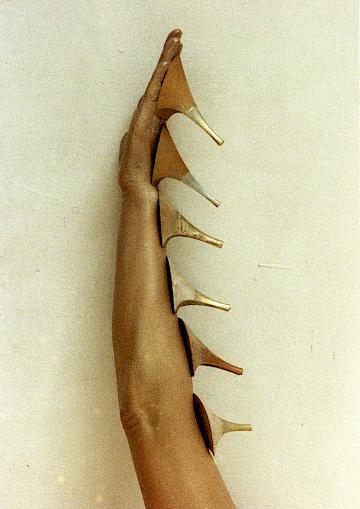 DP: Do you think that living and working in Vienna during the 1970s slowed her career down and consequently her international influence? What if she had moved to New York, which was incredibly active at that time, with several artists using their body as a medium during the rise of performance and conceptual art? I am thinking about two other significant female artists – Yoko Ono and Yayoi Kusama, who both left Japan.
HW: I do think that it would have been an advantage for Birgit`s career if she had left Vienna. On the other hand some of her works, which explain themselves within the Viennes context, probably would not have been created. (ph1656)
DP: She was a vey talented draftswoman but she moved easily between other media such as lithographs, photographs, rayograms, polaroids, collages, watercolours, sculptures, and objects of different materials. If you could list her best works, which ones would you include and why?
HW: As you said, Birgit`s work is especially multifaceted and it is impossible for me to point out her "best" works. But I can name some of my personal "favourite works." There is for example the mysterious drawing of a female face with a spider on her cheek from 1977 or the erotic drawing with collage titled Schöne Nacht ("Beautiful Night") from the series "Zwiegespräche" ("Dialogues") from 1980. Or the staged photograph Selbst mit Fellchen ("Self with Little Fur") from 1980 over which she places a black and white portrait with a clip and draws a question mark. Furthermore, the detailed drawing (1977) with view of the night sky and the moon towards which two women`s feet with a necklace surrounded by a delicate dress fabric are rising. Mit dem Mühlstein um den Hals ("With a Milestone around One`s Neck") from 1983 … hopeless and lost --- or the famous work Ich bin. ("I am.") from 1995. Birgit wrote "I am." With chalk on a blackboard and a sponge hanging from a red string, which could erase her statement.
DP: Her unconventional representation of unlikely female shoes during the 1970s definitely deserves a chapter in itself. Was she aiming to go beyond the common fashion cliché concerning women? (z480)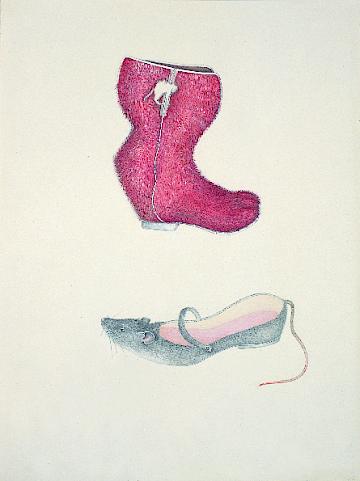 HW: Birgit Jürgenssen was always dressed very well, but unconventionally. She had a big interest in fashion and shoes. A glimpse inside her wardrobe showed that she liked combining designer clothes with simple, cheap pieces. Among her favourite designers were Jean-Paul Gaultier and Norma Kamali; she owned several clothes by them, which she would wear I everyday life.
DP: Did the fashion world at that time react to her drawings, sketches, and sculptures?
HW: No. there once was an inquiry by the shoe company Humanic which was interested in buying several shoe drawings, but the drawings were too expensive for them. (z474)
 (z418)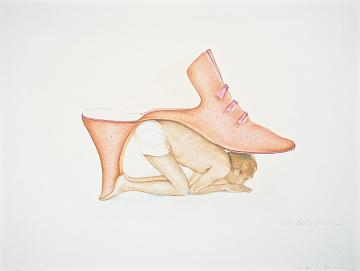 DP: For me, three words to describe her work would be: Feminism, Fetishism, and Femininity. Which three words would you choose?
HW: Exciting, Sensitive, and Subtle.
DP: The art of masking and self-portraying have been two crucial elements that appear throughout her oeuvre. Was it meant to reinforce women`s role in society and at the same time "play" with multiple identities and personalities?
HW: She herself once said in an interview with Rainer Metzger: "I would not call it camouflage. With me it is more a surrealistic practice, making things visible through concealment. I mask myself because it is not so much about me than about the situation as such, in which I show myself, about the stories that get a visuality." With masquerading, metamorphoses, and self-portrayal she crossed the confines of identity, which started to dissolve by the end of the 1970s; with her work 10 Tage 100 Fotos from 1981 this becomes obvious. In no photograph can you see the face of the artist; the identity is reduced and fragmented completely.  (ph891)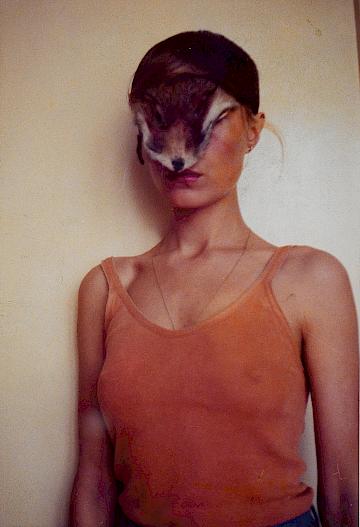 DP: You had the opportunity to know her well. Privately, how was she? Was she a fragile woman or a powerful one?
HW: Both at the same time.
DP: She once stated. "For me, self-irony is a kind of autobiographic strategy, making it easier to convey the potential for subversion and deconstruction." How would you comment on her statement about irony, something that has been a fundamental aspect of her work?
HW: Birgit spoke of "self-irony" rather than "irony." For her "self-irony" was a method of gaining distance. The distance, she once said, helped her to see the things in a world more clearly.  (ph1578)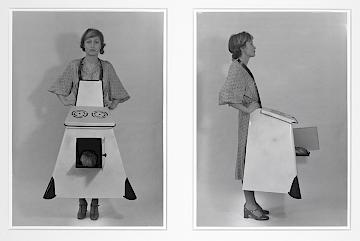 DP: At the beginning of the twenty-first century her work seemed to lack the spirit of her beginnings. Her Self-portrait with the Ship`s Cat (2002) mostly looks like a quite sad caricature. Was she frustrated not being recognized yet as one of the key figures of contemporary art?
HW: At that time Birgit was already terminally ill but to come back to your question, every artist strives for recognition.
DP: The MoMA and the Centre Pompidou have both acquired some of her works ten years after her death. This marks a significant stage in making her work known internationally. What led these two prestigious institutions to start collecting and focusing on her work?
HW: Birgit Jürgenssens`s work is discovered nowadays on an international level mainly thanks to the Viennese SAMMLUNG VERBUND and the commitment of its director Gabriele Schor. She began buying Birgit`s work in 2004 and published the first extensive monograph together with the renowned American art historian Abigail Solomon-Godeau. With the focus of the collection on "Feminist Avant-garde from the 1979 Onwards," Birgit`s work is now valued in an international context. All these activities caught the attention of the MoMA, the Centre Pompidou and the Tate Modern.
DP: How do you forecast the late but richly deserved rediscovery of her work in the upcoming years?
HW: The Estate of Birgit Jürgenssen has worked together with the Alison Jacques Gallery in London and McCaffrey Fine Arts in New York for over a year now. Co-operation, international exposure and availability have also been attained by participating in exhibitions and art fairs from Miami and New York to London and Basel. These co-operations will also contribute to further attention and rediscovery in the future. 
Birgit Jürgenssen was born in Vienna on April 10, 1949, the second child of a doctor.
She died in Vienna on September 25, 2003.