Peter Noever
Desire for Art
In: Peter Noever (ed.): Exh. cat. Birgit Jürgenssen. Schuhwerk. Subversive Aspects of 'Feminism' (Vienna: MAK, 2004), pp. 5-6.
She resisted accustomed categories, crossing borders between the inner and the outer world, between object and body between the real and the surreal, and yet she took the liberty of being blatantly direct. Birgit Jürgenssen (1949-2003) counted, like Valie Export, among those female Austrian Artists who started to question social dogmas and culturally imposed definitions of femininity in the 1970s. In her art-making, she revolted against a bipolar art scene between academic torpidity and unbridled actionism and thus occupied a seminal position, notably for Vienna. Birgit Jürgenssen's approach was always dialogical, she related to things, herself, a vis-à-vis, an object.
She never drew a line between space, art and body, but made herself means of expression. Her art was never artificial. Art and life increasingly grew into a symbiotic unity with her.
When Birgit Jürgenssen walked the narrow streets of down-town Vienna on high heels, one felt attracted to her even before one had really discerned her. Her appearances at art events in this city or in metropolises abroad were informed by an attitude of a convincingly authentic sense for art. It was her boundless openness to the new, her unfailing, and unerring, artistic sensibility, her characteristic "Jürgenssenian sensualness" and her desire for art, which kindled the fire. mehr
This sensual mood also is what makes the attractiveness of an almost forgotten part of her artistic oeuvre, her shoe sculptures. Between 1973 and `76, the painter, photographer, teacher, video, object and body artist Birgit Jürgenssen created a body of works comprised of shoe sculptures and shoe drawings. An exhibition grouped around her "Shoe Chair" (s15)
 - an object, that can be seen as an oversized lady's shoe or a seductive lounging chair, whatever one prefers - now presents 15 of these shoe sculptures: shoe dwellings, shoe architectures for fairy feet (s2)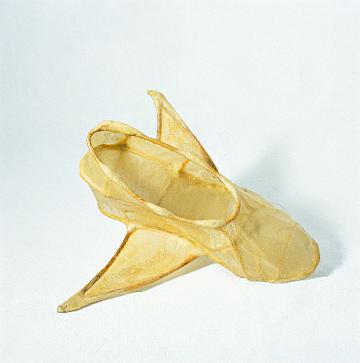 which, despite their apparent fragility, give an impression of a sure aesthetic "foothold".
Following a first-time exhibition at the Nuremberg Kunsthalle in 1976, the shoes as part of Jürgenssen`s oeuvre were forgotten for a long time. Although the artist had a personal obsession with beautiful shoes, she did not want to be forever labelled as "the one with the shoes" - and temporarily closed the book on this part of her work. 
A more profound reason for this decision was the general artistic atmosphere of the 1970s. Women still played a minor role in art production and were considered as a mere appendage to male-dominated art movements. The male artists who were domineering aesthetic discussions back then implicitly imputed that these shoe objects were just fooling around. This was something Birgit Jürgenssen would not have, and so she put these precious pieces away into shoe boxes. It was only in the mid-1990s that the shoe sculptures were rediscovered.
Birigit Jürgenssen, who died last year, bequeathed to the MAK her car (ph2212)
, a yellow 76 Renault R 4, a trademark of hers, once described as her "second skin". Taken in a broader context, this indicates a nexus beyond testamentary matters - in the sense of body awareness and identification. For, notwithstanding the inherent sublimity of her works, Birgit Jürgenssen can be characterized as a radical explorer of the female body and its cultural construction - for the MAK this is a mission and a commitment to keep on thematizing art from this female perspective.